As the United States and China hurl toward a potential Thucydides Trap, the Chinese government has steadily laid groundwork as a global leader in emerging technologies. Maj. Bret White's article examines Chinese thought as to that country's place in the world: a leader in some respects; an outcast in others – but always an innovator.
Next, the article applies this thinking to the interests of China in two critical domains, outer space and cyberspace. By probing China's vision to reshape the international legal landscape as the world becomes increasingly bipolar, space becomes fuller, and cyberwarfare expands, the article serves as a roadmap for national security practitioners and attorneys working with China.
Lead Author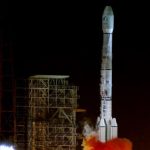 Bret A. White is an active duty United States Marine Corps Judge Advocate, currently assigned as a National Security Law Attorney, United States Indo-Pacific Command. B.A., Texas A&M University (2002); J.D., Seton Hall University College of Law (2005); M.A. in Diplomacy, Norwich University (2018); LL.M in Space, Cyber, and Telecommunications Law, University of Nebraska College of Law (2019). An earlier draft of this article served as partial completion of the LL.M. requirements. The views expressed herein are solely those of the author and do not reflect the official positions of the Department of Defense, the Department of the Navy, or the United States Marine Corps.