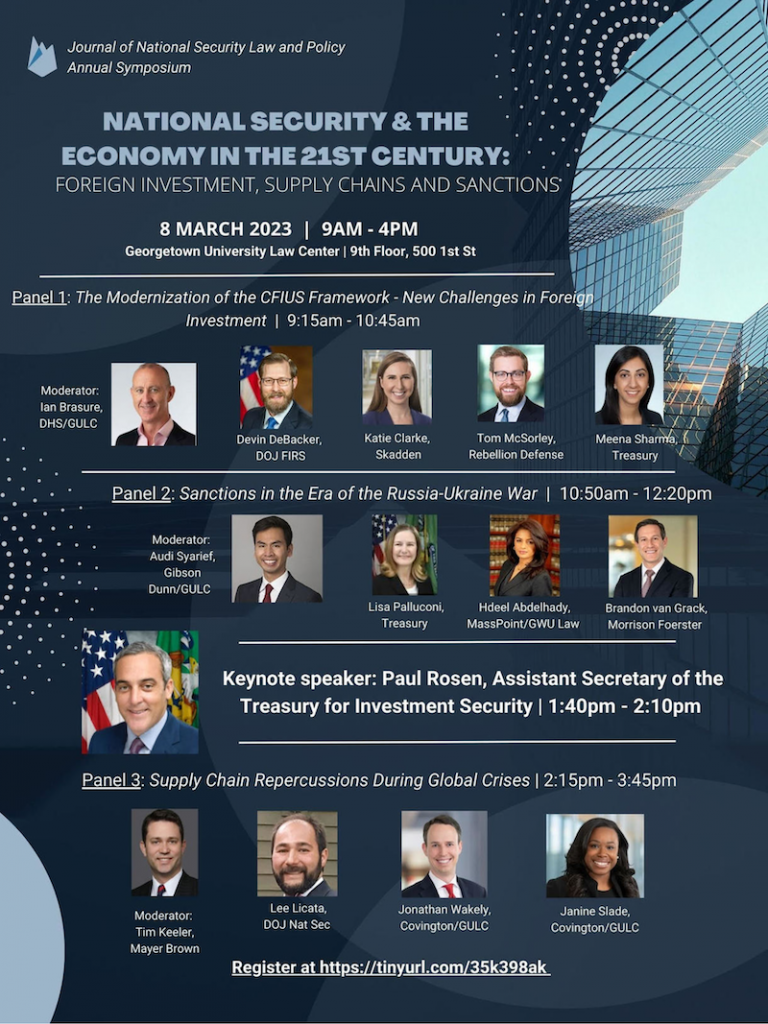 Previous Symposia
2022 Symposium
Free Speech in the Age of Politically-Motivated Threats
Tuesday, March 8, 2022
In addition to the following three panels, the symposium will also feature a keynote speech by Nicholas Rasmussen, Executive Director at Global Internet Forum to Counter Terrorism (GIFCT); former Director of National Counterterrorism Center (NCTC); alum of Bush and Obama NSC Staff; and McCain Institute and ASU Fellow.
Welcome and Opening Remarks (9:00 – 9:10 a.m.)
Adam Silow, Student Editor-in-Chief, Journal of National Security Law and Policy
Panel 1: The First Amendment Associative Right and its National Security Implications (9:15 – 10:45 a.m.)
This panel will address threats of violence, including the doctrine established in Brandenburg v. Ohio and the infamous "Unite the Right" rally and implications of United States v. Miselis on the Anti-Riot Act.
MODERATOR: Laura Donohue, Director, Georgetown Center on National Security and the Law
Panelists:
Sahar Aziz, Professor of Law, Rutgers University Law Schoo
Lauren Cherry, Lieutenant Commander in the U.S. Navy's Judge Advocate General's Corp
Amanda Shanor, Assistant Professor at the Wharton School of the University of Pennsylvania
Panel 2: Hate or Terrorism? The First Amendment and Domestic Terrorism in the United States after January 6, 2021 (10:50 a.m. – 12:20 p.m.)
This panel will discuss a national strategy for countering domestic terrorism, including the need for a domestic terrorism statute and the application of 18 U.S.C. § 2339(A) and 18 U.S.C. § 2331(5).
MODERATOR: Mary McCord, Visiting Professor of Law; Executive Director, Institute for Constitutional Advocacy and Protection
Panelists:
Carrie Cordero, Senior Fellow and General Counsel, Center for a New American Security; Adjunct Professor of Law
Joshua Geltzer, Deputy Assistant to the President and Deputy Homeland Security Advisor at National Security Council, The White House
Leah West, Assistant Professor of International Affairs at the Norman Paterson School of International Affairs at Carleton University
Keynote Address (1:40 – 2:10 p.m.)
Nicholas Rasmussen (see biography above)
Panel 3 – Social Media Misinformation in the Age of Trump, Election Integrity, and COVID-19 (2:15 – 3:45 p.m.)
This panel will address potential avenues for government regulation, discussing COVID-19 misinformation, election integrity, and standards for political figures.
MODERATOR: April Doss, Executive Director, Georgetown Institute for Technology Law and Policy; Adjunct Professor of Law
Panelists:
Leonard Bailey, Head of Cybersecurity Unit/Special Counsel, National Security, U.S. Department of Justice; Adjunct Professor of La
Margaret Hu, Professor of Law and of International Affairs, Co-Hire, Institute for Computational and Data Sciences, and Faculty Member of the Institute for Network and Security Research in the College of Engineering at The Pennsylvania State University
Jeff Kosseff, Associate Professor of Cybersecurity Law in the United States Naval Academy's Cyber Science Department
Closing Remarks (3:50 – 4:00 p.m.)
Adam Silow, Student Editor-in-Chief, Journal of National Security Law and Policy
2021 Symposium
March 23-24, 2021 | Zoom Webinar
The rapid global expansion in Chinese technologies has created a risk of national security vulnerabilities in the United States. The Trump Administration took aggressive steps to try and combat China's growing technology influence Starting with Huawei's 5G and culminating in a series of executive actions to try and effectively ban Chinese owned apps like TikTok and WeChat. This panel discussed the Biden administration's approach to these technology disputes and how emerging complications, like the Microsoft Exchange hack recently attributed to China, will change the conversation.
The South China Sea has long been a contentious area of complex territorial and maritime disputes between several nations over the abundance of natural resources in the region. As China continues to increase its military presence and build islands, the United States closely monitors the security implications. The panel discussed different perspectives from stakeholders in the region and strategies for the future of the South China Sea.
From harsh crackdowns in Hong Kong under a new Chinese National Security Law to mass internments of Uyghur's in Xinjiang, allegations of Chinese Human Rights abuses have filled the news over the last few years. This panel discussed the human rights situation in China, and the implications of the Chinese human rights abuses on US national security policy.
Professor James Feinerman from Georgetown's Center for Asian Law interviewed former Deputy Secretary of State James Steinberg. The two drew from their wealth of experience to cover challenges to shifting to great power competition, and how the Biden Administration should think about China. The interview was also a live taping of the ABA's National Security Law Today podcast.
2020 Symposium
Presidential Emergency Powers: Legal Framework and Perspectives for Reform
JNSLP's 2020 symposium, Presidential Emergency Powers: Legal Framework and Perspectives for Reform, is brought to you by JNSLP and the Georgetown Institute for Constitutional Advocacy and Protection.
In addition to the three panels, the symposium will also feature a lunchtime keynote speech by Elizabeth Goitein, Co-Director, Liberty and National Security Program, The Brennan Center.
PANEL 1: Constitutional and Statutory Framework for Emergency Powers
PANEL 2: Under the Microscope—The National
Emergency at the Southern Border and the Burgeoning
Trade War with China
PANEL 3: Reforming the Emergency Powers Framework
2018 Symposium
2018 Symposium
The New Cold War? The State of US-Russia Relations & Unconventional Threats to US Security
Feb 28., 2018 | Georgetown Law
Panel 1: Foreign Ties in the National Security Context: The Politics & Policies of Disclosure
Panel 2: The Russian Cyber Threat
Keynote: "Where Do We Go from Here?" Laura Kennedy, former Deputy Assistant Secretary for European and Eurasian Affairs
Panel 3: Russian State Organized Crime
2017 Symposium
2017 Symposium
The Border and Beyond: The National Security Implications of Migration, Refugees, and Asylum under US and International Law
Feb. 28, 2017 | Georgetown Law
Keynote: Elisa Massimino, President and CEO of Human Rights First
Panel 1: Immigration, Homeland Security, and the Constitution
Panel 2: The US Refugee and Asylum Legal Regime
Panel 3: Migration and Security Threats Abroad
2016 Symposium
2016 Symposium
March 1, 2016 | Georgetown Law
Keynote: "Global Health Security in an Era of Explosive Pandemic Potential: Lessons from SARS and MERS to Ebola and Zika," Prof. Lawrence Gostin, Faculty Director, O'Neill Institute for National and Global Health Law
Panel 1: "Why Global Health Matters to National Security"
Panel 2: "Federal and State Authority and the Role of the Military During Public Health Crises"
Panel 3: "Public Health as a Driver for Conflict and Instability"
2015 Symposium
2015 Symposium
Trial & Terrorism: The Implications of Trying National Security Cases in Article III Courts
Feb. 11, 2015 | Georgetown Law
Panel 1: Terror Suspects: Pretrial Considerations in Civilian Terrorism
Panel 2: Courtroom Challenges: The Evidentiary and Trial Management Issues That Arise During Terrorism Trials
Keynote: Hon. Lewis A. Kaplan, Federal Judge, US District Court for the Southern District of New York
Panel 3: Convicted Terrorists: Sentencing Considerations and Their Implications on Foreign Policy
2014 Symposium
2014 Symposium
Leakers, Whistleblowers, & Traitors: An Evolving Paradigm
Feb. 25, 2014 | Georgetown Law
Panel 1: The Current Legal Framework
Panel 2: The Media and Whistleblowers
Keynote Address: "Managing Secrets," Admiral William Studeman, Former Director, National Security Agency and Former Deputy Director and Acting Director, CIA
Panel 3: A New Paradigm of Leaking
2013 Symposium
2013 Symposium
Swimming in the Ocean of Big Data: National Security in an Age of Unlimited Information
Feb. 27, 2013 | Georgetown University Law Center
Panel 1: Mapping the Ocean (The Fundamentals, Challenges, and Applications of Big Data)
Panel 2: Building Sturdy Harbors (A Foward-Looking Law and Policy Framework for Big Date)
Keynote: Hon. Rajesh De, General Counsel, National Security Agency
Panel 3: Charting the Future (What to Expect From Big Data)